趣旨
アディス・アベバ南にある聖ジョセフ教会墓地にある「裸足の王様」エチオピアの「英雄」アベベ・ビキラ(1960年ローマ五輪、1964年東京五輪マラソン2連覇)とマモ・ウォルデ(1968年メキシコ五輪マラソンで君原健二と死闘を演じて優勝した。)らの2立像が、3月7日の夜、なに者かの仕業で破壊されました。この現場を目撃し、このまま野ざらしにされるのは偲び難く、自他ともに許す日本、エチオピアの世界の「マラソン伝統王国」が取り持つ縁で、このたび2立像修理再建を強く希望し、アベベ・ビキラ マモ・ウォルデ立像修復委員会を設置し募金活動を行います。
Purpose
On a recent trip to Addis Abeba, I went to St. Joseph cemetery to take pictures of the statues of two great Ethiopians: 1960 and '64 Olympic marathon winner Abeba Bikila and 1968 Olympic marathon winner Mamo Wolde. I found the site completely enclosed by a tarpaulin.
Girum Seifu, photojournalist for the Addis Admass newspaper, informed me that the statues had been vandalized on the night of March 7. Seifu saw the damage on the 8th of March and took the pictures shown here. The police are investigating. So far they have not been able to identify the criminals.
Abeba Bikile and Mamo Wolde are still remembered by many Japanese people as two of the greatest marathon runners because Abeba won the Tokyo Olympic marathon in a stunning solo run and he was accompanied by Emperor Haile Selassie who was warmly received by the Shoa Emperor. Mamo Wolde won in a dead heat with Japanese silver medalist Kenji Kimihara in Mexico City; both of them are still heroes to Japanese marathon fans.
I sent the pictures of the damaged statues to my colleague Ito Takashi, director of Agence Shot in Tokyo, specialized in track and field, and we decided to make a fundraising campaign to repair them. For further information, consult our Agence Shot homepage in English and Japanese.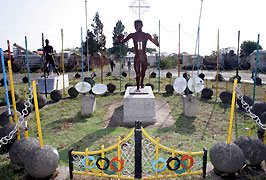 破壊前の立像(中央:アベベ・ビキラ像 左奥:マモ・ウォルデ像)
Statues before destoruction

破壊後の立像(左:アベベ・ビキラ像、右:マモ・ウォルデ像)
Destoroyed statues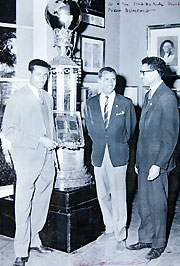 生前のアベベ・ビキラ(左)とマモ・ウォルデ(中央)
Abebe Bikila(left) and Mamo Wolde(center)

委員会の設置場所
〒113-0033 東京都文京区本郷3-5-2第2田中ビル7階
有限会社ショット内「アベベ・ビキラ マモ・ウォルデ立像修復委員会」
代表 伊藤隆司
TEL: 03-5805-0227 FAX: 03-5805-0224
E-mail info@shot-web.com
http://www.shot-web.com

Establishment place of a committee
Agence SHOT
Representative: Takashi ITO

Daini Tanaka Bldg.7F
3-5-2 Hongo,Bunkyo-ku,Tokyo
113-0033 Japan
TEL: (81)-3-5805-0227
FAX: (81)-3-5805-0224
募集目標金額
50万円
7月上旬、立像修復委員長の伊藤隆司がまとめ、ハイレ・ゲブラシェラシェ(アトランタ、シドニー五輪10000m金メダリスト、世界選手権4連勝など)へ贈呈いたします。
Recruitment target amount of money
500,000 yen
募集期間
2007年4月16日から5月31日まで
*期日変更しました。
Recruitment period
16 April ,2007 - 31 May ,2007
振込み口座
    郵便口座
記号    10160
番号    99812551
口座名  アベベ・ビキラ マモ・ウォルデ立像修復委員会 
     銀行口座
銀行名   三菱東京UFJ銀行(金融機関コード:0005)
支店名   本郷支店(支店番号:351)
口座名   アベベビキラ マモウォルデ立像修復委員会 代表伊藤隆司(アベベビキラマモウォルデリツゾウシュウフクイインカ        イダイヒョウイトウタカシ)
口座種類  普通口座
口座番号  4611443
*募金報告書を発送のための個人情報(住所、氏名、連絡先、)をメールかファクスにてご連絡いただけますよう御願いいたします
Transfer account
    JAPAN POST
account name : Fund for the Restoration of Abebe・Bikila and Mamo・Wolde Statues
code :        10160
number :      99812551
    BANK
bank:          The Bank of Tokyo-Mitsbishi UFJ,ltd.
bank code:        0005
branch:          HONGO BRANCH
branch code:      351
account :         4611443
name:         The Restoration of Abebe Bikila and Mamo Wolde Statues
bank address;     3-33-5,HONGO,BUNKYO-KU,TOKYO,JAPAN
swift code:       BOTKJPJT
募金報告書
2007年12月31日までに発送いたします。
Donation report
I inform it by 31 December,2007.
募金活動掲載状況
・4月18日 IAAF(International Amateur Athletics Federation 国際陸上競技連盟)     http://www.iaaf.org/news/Kind=2/newsId=38362.html
・4月19日 ランナーズワールドブログ
http://dailynews.runnersworld.com/?cm_re=HP-_-News%20And%20Blogs-_-Headline%20News

"Photographers Raise Money To Restore Abebe Bikila And Mamo Wolde Statues Bikila, the 1960 and 1964 Olympic marathon gold medalist, and Wolde, who won in 1968, are two of Ethiopia's most legendary athletic heroes, but their statues a cemetery in the capital city, Addis Ababa, were severally damaged in March. Photographers from Japan, where Bikila won his second gold medal, have started a fundraising campaign to restore the statues."
・4月20日 朝日新聞 朝刊 スポーツ欄 ハーフタイム
記事は、添付資料参照
                                                          発起人  Promoters
                                                   有限会社ショット 代表取締役  伊藤隆司
                                          〒113-0033東京都文京区本郷3−5−2第2田中ビル7階

                                                   Agence SHOT Paris  Jiro MOCHIZUKI
                                                     7rue,Saint Claude 75003 Paris,France